This time of year, as my sometimes over-scheduled Holiday plans ramp up, the weather cools, sunlight hours decrease, and I'm in-between my favorite sports (too much snow and cold for mountain biking but not yet enough for AT skiing – it's a hard-knock life, I know), sometimes I need a little homemade pick-me-up. As in chocolate…yes, some delicious chocolate recipes. Now, don't get me wrong, I'm not promoting emotional eating or trying to solve problems (besides hunger and fueling needs) with food. But, you gotta eat, right? Why not eat something nourishing and DELICIOUS? Seems like exactly the right time for my 3 Favorite Chocolate-Rich Healthy Treats. Here's the descriptions, the recipes, and how to include them in your meal plan in a healthy way:
Recipes of the Week:
My 3 Favorite Chocolate-Rich Healthy Treats:
I know what you're thinking…avocados do NOT belong in chocolate pudding. Oh, but they do. And you'll agree after you taste this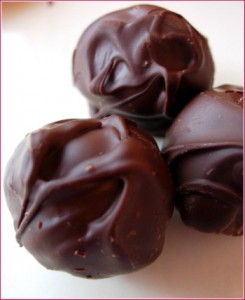 velvety, delicious, great-for-you snack or recovery option. Don't be scared, Chocolate Avocado Pudding is delicious.
And again, you're likely thinking that black beans do NOT belong in brownies. And again, I'll respond with that they do (at least in ones you're using for a snack and not a once-in-awhile dessert). You'll never even notice the nourishing goodness of the beans in these delicious high-protein brownies. If it's any test, my kids gobble these up in one day when I make them.
Now, these are a treat that isn't meant for a snack OR a recovery. I believe most anyone, with any weight, health, and/or performance goals can fit in a treat now and again. And these fit the bill with their delicious, super-chocolate flavor and great ingredients. They work well as gifts, too.
Check Out Coach Kelli's Fuel Right Blog here